GMP9: Nutrient and Cost Analysis
Importing Maize to Reduce N Loss with John Butterworth
| | |
| --- | --- |
| Perrin Ag Consultants modelled annual N losses from a current (2016/17) real dairy farm in the Rotorua catchment and compared it with a scenario developed to estimate the N losses that would occur if they went back to a system that didn't use maize silage. The analysis below summarises the nutrient savings, impacts on profit and the wider farm system, risks and additional on-farm skills required to implement this good management practice. |   |
Nutrient losses
OVERSEER 6.2.3 was used to model the annual N losses from the Butterworths' current (2016/17) farm system and then compare it to a hypothetical pre-maize silage scenario, informed by the prior performance the Butterworths' farm business.
The Butterworths have essentially introduced maize silage into the farm system to achieve two aims – one to replace the N boosted pasture used to feed dry cows over winter (through the accumulation of pasture cover [autumn-saved pasture] in late lactation] and secondly to increase shoulder-milk production that isn't possible when you otherwise need to slow down the speed of your grazing rotation – primarily through reducing cow intakes i.e. drying cows off.  Their simple and relatively low cost feed pad (an impermeable rhyolite pad with concrete feed bins) provides for good levels of utilisation of the silage (and consequent conversion to milk).
Based on the Butterworths' historic (pre-maize) farm system data, an additional 44kg N/ha (19.2t urea) had been applied in the autumn (Mar-May) period to lift pasture covers for winter grazing.  This additional pasture growth is equivalent to the 88.5t DM of maize fed to dry cows on the farm over winter.  The balance of the 180t DM of maize fed (91.5t DM) is used in the autumn to extend lactation whilst still slowing the grazing round.  We estimate that this maize allows the farm to produce and additional 7,625kg MS per year, 2/3rd of this in April and the balance in May.  On this basis, for the same number of cows, it's calculated that the removal of this maize silage would require an additional 19.2t urea to be applied over March, April and May and that milk production would fall from 245,000kg MS to 237,375kg MS per year.
The farm had been modelled in accordance with the current BOPRC OVERSEER modelling protocols and the pre-GMP scenario utilised the same basic model, but was adjusted for the production, feed and N fertiliser system changes discussed above.
In total, whole dairy farm system N losses have been estimated to decrease by 4,100kg N as a result of the introduction of maize silage into the farm system (18.9kg N/effective hectare).
The reduction in N losses occurred through an improvement in the N conversion efficiency (an increase from 23% to 25%) within the farm system as a result of (a) the reduction in fertiliser N usage that occurred and (b) the extra milk production that occurred from the supplementation with a high CHO/low protein feed (which helped utilise surplus protein in the cow's diet).  The kg MS produced per kg N loss for the farm increased from 10kg MS to 13kg MS
 Economic modelling
A partial budget analysis, including necessary feed modelling, was undertaken in Excel to calculate any change in operating profitability associated with introducing maize silage into a dairy farm system in the way the Butterworths did.  A milk pricing calculator for the Butterworths' milk company, developed by Perrin Ag, was also utilised to calculate the actual impact of changing the farm's pattern of milk supply on annual milk revenue.
The analysis needed to incorporate capital investment, the change in net profit before tax ("NPBT") was calculated for the current and scenario farm systems and compared, as opposed to the operating profit ("EBIT") measure normally preferred for this kind of analysis.   All prices/outputs exclude GST.
The impact of net additional feed coming into the farm has both increased total milk production (almost 7,300kg MS over April and May) and allowed the Butterworths to capture higher additional season milk premiums from the company they supply milk to. These premiums equate to an additional $0.08/kg MS to their average milk price over the season – the total increase in revenues from the extra milk of $61,400 at a published $6/kg MS milk price.  With approximately 40% of the maize used to replace accumulated pasture cover grown with late season autumn N fertiliser applications, 19.2t less urea has had to be applied, saving $12,300 at current urea prices.  The total benefit to the farm system is estimated at $73,750.
The 180t DM of maize silage fed, at a price of $0.33/kg DM, adds $59,400 to annual farm working expenses.  In addition to the direct cost of the feed, there are other cash and non-cash costs associated with utilising the maize silage.
The increase in farm working expenses from additional tractor use, R&M on equipment and labour costs have been estimated at $5,300 per annum.  The Butterworths' investment in infrastructure and additional machinery of approximately $128,000 has an annual opportunity cost of capital (at 6%) of $7,700 and these assets will also depreciate at a rate of approximately $5,800 each year.  Overall, the Butterworths' system change has a total annual cost of $78,300.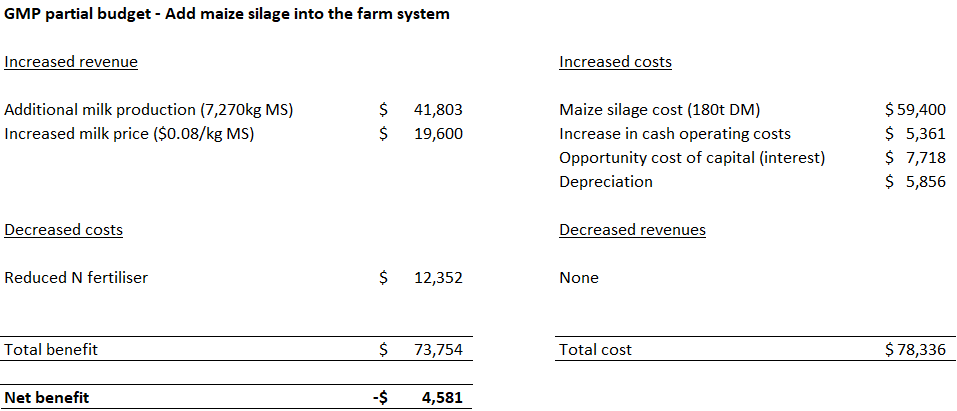 This is equivalent to a decrease in profit of $1.12/kg N loss reduction.
Of course, all of the cost of the feed pad and associated equipment has been attributed to the introduction of maize silage, even though the equipment and facilities can be used for other forages and concentrate feeds and/or may have co-benefits to the farm system that allow the "cost" to be spread over different elements of the business.  Preparing the analysis in this way presents a "worst case" scenario.
Key Risks
The efficient use of maize silage poses a number of challenges to many farm systems.
While maize silage can be utilised well with good facilities and management practices (c. 90% utilisation), feeding out on wet soils, poor ensiling techniques and poor face management of the stack can rapidly result in losses in total feed of as much as 50%, which given its initial cost can make it an extremely expensive feed supplement.  As a high carbohydrate feed, maize silage can also pose animal health risks when introduced to the diet too quickly or in large quantities (acidosis) and can negatively affect milk production when not fed with sufficient protein.
The Butterworths' location makes growing maize on farm problematic, requiring them to purchase it on the spot market.  While contracting maize can eliminate price volatility within a given season, the price of maize can vary significantly from year to year.
The Butterworths' location has allowed them to create a relatively low cost feed pad, thanks to the rhyolite substrate that sits under sections of their farm; other properties may require significantly more costly feed pad construction to ensure effluent can be managed in line with best practice.
As the economic analysis highlights, there are number of costs associated with successfully integrating maize into a farm system, many of which are indirect (i.e. additional wear on machinery, more to do in the day) or hidden (i.e. depreciation) and often excluded from consideration.
Additional skills required
The skills required to efficiently and profitably use feed supplements are primarily those needed to utilise maize silage.  These include:
Good pasture management
Good stack and face management
Accurate measurement and delivery of the feed
Balancing animal nutrient and mineral needs (if required)
Purchasing it at the right price (rule of thumb is 5% of milk price assuming an 80g MS/kg DM response)
Effluent management from feed facilities
Where to find out more information
DairyNZ resources
Other
Pioneer – Benefits of maize silage
R.J., Williams, I.D., Edmeades, G.O., Kleinmans, J.J., McCarter, S.B. 2013. Reducing the environmental impact of dairy farming on water and spoil quality: A case for maize silage. Genetic Technologies Lt, PO Box 105303, Auckland.